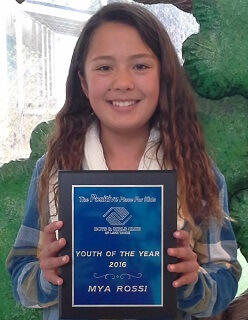 Mya Rossi is rewarded for her outstanding contribution to the Club and her community. Selected among several local outstanding youths, Mya has been awarded the honorary role of Youth of the Year of the Boys and Girls club of Lake Tahoe. Along with this role she will also be receiving a Heavenly/Kirkwood/Northstar season pass next winter courtesy of the Vail Epic Promise Program. The Youth of the Year program honors our nation's most awe-inspiring young people on their path to great futures and encourages all kids to lead, succeed and inspire. As the new Youth of the Year for Boys and Girls Club of Lake Tahoe, 13-year old Mya is a true example of an extraordinary young woman recognized by BGCA for her leadership, service, academic excellence and dedication to live a healthy lifestyle.
"It is a privilege to work with Mya and the other three YOY candidates. Mya exemplifies everything we strive towards at the Boys and Girls Club – hard work, accountability, responsibility, community spirit and kindness towards self and others. Mya is a wonderful ambassador for the Club and her peers ," said Jude Wood Executive Director of Boys and Girls Club of Lake Tahoe.
Mya will be attending Tech Trek Camp of UC Davis which is a STEM camp that is only for 7th grade girls. For a week this summer she will be sharing a dorm room with another girl from around the area that shares her same interests and drive in Math and Science. Between STMS and Whittell Middle School there were 3 scholarships available, and Mya was lucky enough to receive one. Mya was nominated by her Science teacher due to her interest in Science, no more than 5 nominees are allowed per school. This is a great opportunity for Mya and will help her strive for her goals in the future.
Other academic awards Mya have received are; Presidents Education Award due to her outstanding academic excellence, and the Hope of America Award due to her demonstration of exceptional leadership, moral character, ethical conduct and outstanding academic accomplishment.
In the past 5 years Rossi has been involved in a number of amazing programs that she would not have had the opportunity to participate in without being part of the Club and one of our outstanding members. She was invited to join our Paddleboard program as one of the youngest members due to her maturity, as well as her leadership skills and ability to follow directions. For 3 weeks she worked with a team to build a paddleboard. Within these three weeks she learned how to sand pieces of wood that would be the outside of the paddleboard, they then had to assemble the skeleton of the paddleboard, and finally epoxied many coats to the outside of the board so that would seal the wood and become buoyant. Rossi was also involved in our Tahoe Rim Trail Association backpacking trip. She camped for two nights and three days on the Tahoe Rim Trail. She has also been involved with our Torch club program- which is a leadership program that holds fundraisers and functions to assist the club and community.
Rossi is aspiring to be either a pediatric doctor, neuro scientist, or musician. She would like to attend a University on the Pacific Coast. Rossi plans to help through high school volunteering for the Lake Tahoe Marathon, Halloween Carnival at Sierra House, haunted house at the Boys and Girls Club, as well as any other volunteer opportunities that are presented to her. She has helped with various events at the club such as the Wooden Boat Show being a Junior Judge and selling water on the weekend. She has held a steady 4.0 grade point average throughout her schooling and plans to pursue nothing less in the future. She is enrolled in all honors courses that are available to her. Rossi has a passion for soccer that sparked an interest as young as Kindergarten in the AYSO program. In recent years she has begun playing year round soccer and was invited to a spring select team. She tried out for the volleyball team this season and was excepted onto that team even though she had never played volleyball before. It was a challenging but rewarding season; she learned teamwork, patience, dedication, and stamina through her participation.
Boys & Girls Clubs of America's National Youth of the Year recognition program is presented by Disney, who has supported BGCA for more than 50 years, empowering young people to reach their full potential and providing youth with access to the tools they need to build the great futures they imagine. Toyota, the Signature Sponsor of Youth of the Year, is committed to helping improve the quality of life in our communities, and has demonstrated a strong commitment to ensuring youth have access to a quality education. Additional support is provided by University of Phoenix, a national education partner that has joined with BGCA to impact academic success among youth across the country, and the Taco Bell Foundation, BGCA's premier partner for teen empowerment.
For more information about the Youth of the Year program, visit www.youthoftheyear.org