SOUTH LAKE TAHOE, CA – Team #20681 Giga Bite, a South Lake Tahoe FIRST Tech Challenge (FTC) youth robotics team, has emerged as a member of the winning alliance of the Nevada State Championships, held March 3rd and 4th in Henderson, Nevada. The team, along with VC Silver Circuits and MCII, formed the winning alliance and battled it out against 29 other teams from across the state and nearby regions.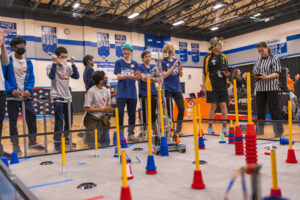 This year's challenge, called "Power Play", required teams to design, build and program robots to compete in a fast-paced, high-energy game that tested their creativity, problem-solving skills, and teamwork. The Giga Bite team worked tirelessly for months to perfect their robot and prepare for the competition. Their efforts paid off as they were able to overcome tough opponents and demonstrate their technical prowess on the field.
"We are so excited to have gotten this opportunity to travel and compete alongside all these very talented teams. We can't wait to see what we can accomplish next season!" – Arya Saini, Management Giga Bite Team Lead and Builder
The team's victory is not only a local achievement, but also a source of inspiration for other students interested in STEM. The team is led by coach David Wise of Tahoe STEM Academy, a locally-owned small business that aims to bring high quality hands-on science and engineering education to the South Lake Tahoe community and coach Monique LeMay, local parent and graphic designer. This program is a first of its kind opportunity for local kids and this victory represents a major milestone, showing South Lake Tahoe as a leader for STEM education in the region. Tahoe STEM Academy offers daily instruction through the Boys & Girls Club of Lake Tahoe, as well as private engineering-focused lessons for adults and kids alike.
Partnering with the Boys & Girls Club of Lake Tahoe, the team met and built their robot in the STEM Room at the Angel of Tahoe Main Site Building. Giga Bite acted as a mentor to another rookie robotics team and routinely demonstrated their progress to younger members of the club. The competitive robotics program created by Tahoe STEM Academy and Boys & Girls Club of Lake Tahoe aims to promote critical thinking, creativity, and collaboration among young people in the South Lake Tahoe community, helping to develop the next generation of innovators and problem solvers.
"I'm so amazingly proud of this group of talented young individuals. They poured their hearts and souls into their robot and this competition, and it truly shows. I'm honored to be one of their coaches, along with Monique LeMay. These kids are going to do amazing things and I can't wait to see what the future holds for them. " – David Wise, Coach
Giga Bite is a second-year community-based team competing in the Northern Nevada FTC League, coached by David Wise, and Monique LeMay. This year's team members are Jay Feeney, Arya Saini, Jackson Letton, Logan Habicht, Connor Habicht, Jude James, Jacob Lucas, Josie Feeney, Jackson Grillone, Seth Johnson, Trevor Bennet, and Ris Goralski. In addition to the team's victory, Feeney and Lucas both were semi-finalists for the Dean's List individual award.
The team wished to wholeheartedly thank their sponsors, Untethered Coworking Space, Lumos & Associates, Tahoe STEM Academy, and the Boys & Girls Club of Lake Tahoe. This season and win would not have been possible without their support.
About FIRST Robotics:
FIRST Robotics is a global organization that aims to inspire young people to pursue careers in science, technology, engineering, and math (STEM) through hands-on robotics competitions. Founded in 1989, the organization has grown to over 500,000 participants worldwide, with programs for students in grades K-12.
For more information about Giga Bite or the FIRST Robotics program, please contact David Wise:
www.gigabiterobotics.com www.tahoestemacademy.com [email protected]