The 6th annual Tahoe Brewfest raised over $100k for the Boys & Girls Club of Lake Tahoe, a non-profit that provides after school and summer programs for the community youth. Ski Run Blvd. was transformed into a large block party from Alder Ave. to Tamarack Ave. with beer enthusiasts on August 26. The largest Brewfest in Lake Tahoe welcomed more than 2,000 people who enjoyed beer samples from 40 breweries around the western part of the U.S. More than 120 samples of beers, ciders, kombuchas and whiskey were available to enjoy during the four hour event. Three DJs, live painting, face painting, a photo booth and bubble shows were just some of the "Street Party Vibes" that was experienced on this sunny Saturday. On site were 8 food vendors and 17 merchandise booths selling clothing, art, jewelry, and more.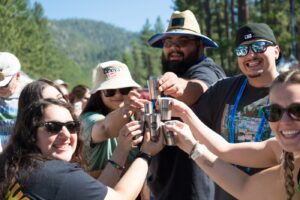 "When the local community and other Tahoe fans come together, great things happen. Not only were there double the breweries, but the Club also raised double the funds," said event director Aimi Xistra-Rich. "We are so blessed for all our sponsors, volunteers, breweries, vendors, artists, entertainers, DJs, and attendees for making this event the best yet!"
Check out pics from this year's event on instagram @TahoeBrewfest and stay tuned for information for the 7th Annual Tahoe Brewfest to be held in 2024.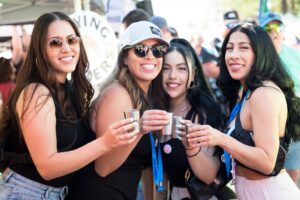 Sponsors & Special thanks to: Deb and Dave from Cold Water Brewery, Visit Lake Tahoe, Friends of Ski Run, Harrahs & Harveys, Caesars Entertainment, Durkin Tree Service, US Bank, Embarc, Tahoe Green, The Turn, Visit Lake Tahoe, Charter, Beyond Wellness, Luna Lending, Quick Space, Redwood Printing, Tahoe Daily Tribune, Tahoe.com, LTTV, Forest Inn Suites, Hotel Azure, Station House Inn, Desolation Hotel, Maggie's Restaurant, South Lake Brewing Company, Lakeview Social, Lake Tahoe AleWorx, South of North Brewing Company, Stateline Brewery, OnCourse Events, Welcome's Towing, Lake Tahoe Golf Course, Free Bird, Tahoe Bagel Company, Ukubabies.
Photos taken by @hpm_photos