Summer has barely started but already our thoughts and plans have turned to the next school year.
The Club is very aware that the need for our programs continues to outweigh our current space and staffing capacity.  To address this shortfall, the Club is continuously looking for ways to expand our programs.  Last year we added an after school site at LTEMS (Magnet) and this fall we will be opening a new after school site at Tahoe Valley.
The Tahoe Valley site will initially just serve TK and Kindergarten, with 1st through 5th continuing to attend the main site.  However, if we are able to obtain the staff, we may extend beyond Kindergarten in the future.  Opening at Tahoe Valley will reduce the need to bus our youngest members and free up more space in the Angel of Tahoe building for older grades. We are extremely grateful to Tahoe Valley and LTUSD for providing this opportunity.
Applications for after school 2023-24 will begin on July 10th.  The process will be 100% online via our MyClubHub portal.  Parents with MyClubHub accounts will just need to log in and apply.  New applicants will need to create an account.
Applications will close on July 25th and successful families will be notified via EMAIL on August 2nd. Anyone initially unsuccessful will automatically be placed on our waitlist and be contacted as soon as we have a place available.
Once again, we will have a punch card option for 50 uses over the school year (not including vacations).  This allows for at least one day each school week and is ideal for families who don't require daily services.  We hope that flexible families will use this option and leave full memberships for those families who need daily after school support.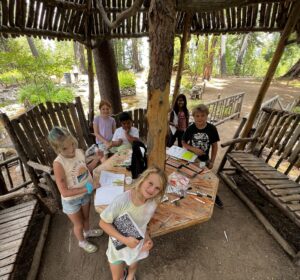 Pricing for the school year is as follows:
Families who qualify for free and reduced meals, children in foster care, or children classified as homeless – FREE.
Family income under 50K – $200
Family income under 75K – $300
Family income under 100K – $400
Family income over 100K – $600
Families enrolled in schools in other districts (not Lake Tahoe Unified) – $600 for the year.
50-day Punch Card (use throughout the school year not including breaks)- $250
There is a very modest fee increase for this year to help us cover the costs of opening another site and employing more staff.  But we are proud to offer Club for FREE to nearly one quarter of our members and are extremely grateful to our families and donors who give so generously to support others.
Over the past two years we have noted that every time we absorb children off our waitlist, more names get added. We are realistic that the Club will have to continue to grow until we are serving all who need us.  But this year will be another step along the road and we hope that you will be part of that journey.
Interest forms will be available on our website, BGCLT.org.
After School Program: bgclt.org/after-school-membership
TK Afternoon Program: bgclt.org/tk-afternoon-membership