Monday the 22nd June was a wonderful day for the Club, as we welcomed back our members for the start of our summer program.
We are extremely grateful to the experts and advisors who helped review our safety plan and ensure that we can open in a safe and responsible manner.  Namely, Dr Clint Pervance, CEO of Barton Health, members of the El Dorado County Childcare Planning Advisory Council, colleagues from the Boys and Girls Club of Western Nevada (who were open during the shut down and even let our team tour their Club to learn vital tips and tricks!) and the Boys and Girls Club of North Lake Tahoe.  We based our policies and procedures on guidance from the State of California (day camps) and the Center for Disease Control (day care and school guidance) and we will change and adapt our policies and practices as new guidance and best practices are released.  We would also like to thank the LTUSD Board and our own Club Board for greenlighting our reopening.
We have worked extremely hard to make the Club a safe environment and we have been delighted by how our members have quickly adapted to the new procedures.  Some of the major changes are the much smaller group sizes, the creation of homerooms for each group, sticking in our groups even at recess and lunch, and of course – temperature checks on arrival and the wearing of masks.  We had always intended for our members to have masks available, particularly given that some of our staff and other members fall into vulnerable categories for COVID-19, but the California Governor's mandate that everyone wear masks when in public and especially indoors, meant that we had to enforce masks across the Club.  The only time we take our masks off is when we are playing outside, which we try to do as much as possible.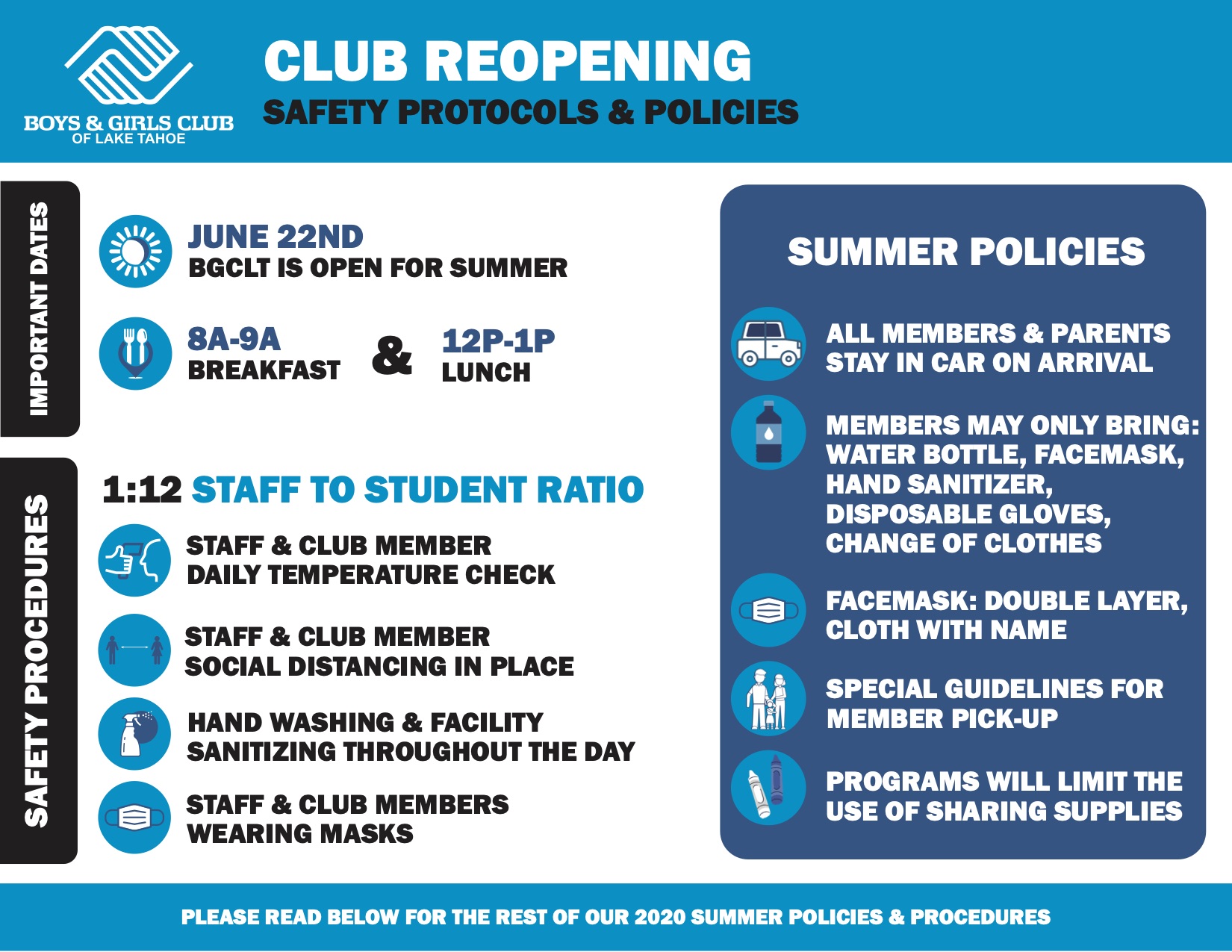 Fun is still going to be an important aspect of the Club this summer and indeed the small group sizes are going to enable us to have even more great and hands on programs.  Already we have made slime and explosions in a cup!
At the summer progresses we will look to reinstate some of our camps – such as art camp and adventure camp – and parents will be advised of dates and costs.  Adaptions will have to be made, such as small group sizes, but we know they are a popular part of summer and will do what we can to still offer those extras.  Field trips are likely to be limited to trips to the beach or other local areas where we can adhere to social distancing.  As with camps, we will update families on our plans over the course of the summer.
Finally, we understand that for some families life has changed considerably since March and Club may no longer be needed.  We also completely understand that some families wish to stay self-isolating and do not wish to return to Club until later in the year.  For that reason, we are offering all members who signed up for the summer until July 1st 2020 to either switch to an afterschool only membership or to request a full refund.  Families must contact us PRIOR to July 1st.  For those who request a full refund, we cannot guarantee a place at Club later in the year as we anticipate our ratio to be reduced for some time to come.
For families hoping to attend Club this summer, we will reopen enrollment AFTER July 1st and messages will go out via BAND and Facebook informing families in what age groups we have availability.
We are so excited to be reopen and to continue to provide a safe, fun and education place for our members and community.  Thank you.
Please CLICK HERE to read the full Covid-19 Policies & Procedures put in place at the club.