Dear BGCLT Supporter,
Thank you for another AWESOME year at the Club! We're so thrilled to be celebrating so many successes of 2022, including the opening of the new Angel of Tahoe building in April and a brand new club site at the Magnet campus this Fall.
All of our Boys & Girls Club of Lake Tahoe (BGCLT) kids thrive within our great programs because of donors like you. Please consider supporting with a year-end gift so we can continue making a difference in the lives of our community youth.
BGCLT continues to provide safe, enriching programs for the youth of our community. We provide for thousands of children in South Lake Tahoe, Meyers and beyond, with after school programs, summer programs, enrichment camps, snacks, lunches and dinners throughout the year.
Our BGCLT kids are the best! During the school year we continue to see so many of our kids excelling in academics, athletics, and earning monthly honors. We believe that keeping kids involved with our program is having a huge influence on their success. Our kids thank you all for your support.
Our Club would like to recognize a student in the Angel of Tahoe program, Kyra Schumaker, 3rd grade at Sierra House. We congratulate her on a successful year in our STEM program. She worked for months to build a robot from start to finish. This wasn't easy, there were obstacles she overcame, and days that were more difficult than rewarding. But in the end, her finished product brought all of us a feeling of accomplishment.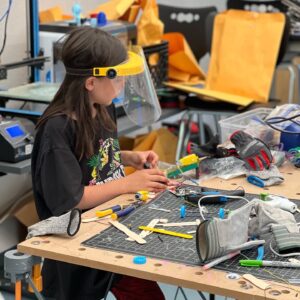 We ask for your support for kids like Kyra to continue to dream and succeed. If you are able, please consider a year-end gift in any denomination to support our Tahoe youth.
Donate Here: www.bgclt.org/team-awesome
Thank you and Happy New Year,

Aimi X. Rich
Director of Development